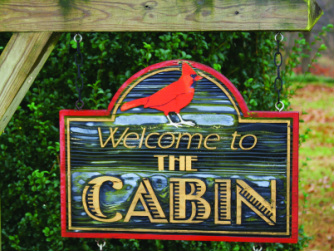 Rates


Base Rate: $225 per night
(up to 4 guests)
Additional guest: $20 per night
Sales tax: 6.25%
Deposit: $225


There is a two night minimum stay for all reservations.
---
SHORT TERM RENTAL AGREEMENT
This Agreement is made between the Purdy Cabin Guest Retreat, LLC, (hereinafter referred to as ("Purdy Cabin"), and the person (hereinafter referred to as "Guest") who is specifically identified by name on an accompanying document entitled "Reservation Confirmation & Invoice" and whose statement and signature thereupon, shall acknowledge their agreement with all provisions, terms, and conditions expressed herein concerning the short term rental of the property referred to as the "Purdy Cabin" located at 16798 N. 556 Road, Tahlequah,
OK 74464.
TERMS & CONDITIONSRental Rates:
$225 per night for party of 1 to 4 people.


$ 20 / night for each additional person in the group (accommodations sleep 10 persons).


Minimum stay = 2 nights.


Note: The rental period, with check-in and check-out times will be shown on Guest's Reservation Confirmation.


Additional Fees/Deposits:
$225 – reservation deposit, applied to rental balance at check-in or refunded if reservation is canceled at least 2 weeks prior to stay.

Payment Due Schedule:
Within 7 days of reservation -- $225 reservation deposit is due.


Balance of total reservation fees – due at check in.


Note: State and local sales tax and applicable lodging tax will be applied to the total charges

1. The Purdy Cabin hereby allows the Guest and other parties within the Guest's group, exclusive use of the Purdy Cabin during the term of the rental and in return for payment of the rental rates, fees, and deposits described herein. The use of the Purdy Cabin by the Guest and other parties of the Guest's group is considered exclusive to the Guest and shall be uninterrupted.
2. It is further acknowledged and understood by all parties that the owner, manager, and/or other authorized persons of the Purdy Cabin shall be entitled to concurrent occupancy and use of any non-rental portion(s) of the Purdy Cabin and its premises during the Guest's rental period.
3. The Purdy Cabin, including its manager, staff, or other authorized designee, shall have the right to inspect the premises without prior notice at any time to enforce the terms of this Agreement. Should the Guest and/or other parties of the Guest's group violate any of the terms of this Agreement, the rental period shall be terminated immediately. Guest and occupants shall vacate the premises at the expiration time and date of this Agreement or otherwise upon its termination.
4. Guest and other group occupants shall maintain the premises in a good, clean condition and use the same only in a careful and lawful manner.
Guest shall leave the premises in a ready-to-rent condition, defined as being habitable by the next Guest(s) with the application of light cleaning and housekeeping to be provided by the Purdy Cabin.
Guest shall pay for any maintenance or repairs needed as a result of damage done to the premises over and above normal wear and tear.
5. Guest shall not sublet the property.
6. The Purdy Cabin shall provide towels, linens, cups, knives, forks, spoons, dishes, and other items of common use.
Other consumables are to be purchased by Guest.
7. The Guest and parties of the Guest's group shall hereby indemnify and hold harmless the Purdy Cabin against any and all claims of personal injury or property damage or loss arising from use of the premises regardless of the nature of the accident, injury or loss. Guest and members of the Guest's group expressly recognize that any insurance for property damage or loss which the Purdy Cabin may maintain on the property does not cover the personal property of the Guest and its group members, and that all such persons should purchase their own insurance for Guest and other occupants if such coverage is desired.
8. Guest agrees to pay all reasonable costs, attorney's fees and expenses that shall be made or incurred by the Purdy Cabin for enforcement of this Agreement.
9. Guest expressly acknowledges and agrees that this Agreement is for short term, transient occupancy of the property of the Purdy Cabin, and that Guest and other occupants do not intend any use other than that defined herein.
10. The Purdy Cabin is not responsible for any inconveniences, shortened stays, or ruined expectations that may occur for which the Purdy Cabin has no control. This includes, but is not limited to: power outages, adverse weather, mandatory evacuation, construction, mechanical failure of equipment, personal or family emergencies or other commitments of the Guest.
The Purdy Cabin shall not be obligated to make any refund for such occurrences and inconveniences
that may be experienced by Guest and/or other members of their group.
11. Payment shall be made for all persons residing and/or sleeping at the Purdy Cabin.
12. Guest understands that the following "Rules of Occupancy" are made a part of this Short Term Rental Agreement and Guest and other parties in the Guest's group further agree to abide by the following terms:
RULES OF OCCUPANCY
I.
Guests shall dispose of all trash and garbage generated during the rental period.
Trash and garbage will be discarded only by use of plastic trash bags and which shall be placed in designated bins
. The disposal of any waste material by dumping, placing, or otherwise discarding the same upon the grounds or in any stream or waterway adjoining the property is expressly prohibited.
II.
Pets are allowed only at the discretion of, and by pre-arrangement with, the Purdy Cabin.
Additional fees will apply.
III.
The Guest shall ensure their conduct is respectful of the property leased hereunder and shall be good neighbors respecting the rights and interests of the surrounding property owners.
Under no circumstances shall Guest use or otherwise trespass on the property of adjoining landowners.
Guest shall not create noise or disturbances likely to disturb or annoy the surrounding property owners. Creating a disturbance of the above nature shall be grounds for immediate termination of this Agreement whereupon Guests and any parties of their group shall then immediately vacate the premises.
IV.
There shall be no smoking inside the premises. Smoking is permitted outside the home; discarding of cigarette butts or other smoking waste on the grounds of the property may result in additional cleaning fees.
V.
The Purdy Cabin does not maintain any part of the premises in a manner that ensures safe access to any stream or waterway that may be part of the premises.
Accordingly, all Guests and other occupants are
prohibited from using such potentially hazardous areas for the purpose of accessing said stream or waterway or
any adjoining land thereof, for any purpose including swimming, fishing, boating or other activity.
Other nearby commercial properties and public recreation areas provide opportunities for such access to stream and water recreation.
VI.
Guests shall not possess nor discharge any firearms on the leased property.
VII.
Guest agrees that fireworks and other hazardous materials shall not be used in or around the property.
VIII.
Guest agrees not to access nor use any of the Purdy Cabin's secured, personal areas or property including locked rooms, closets, basements, boats, and outbuildings.
IX.
Guest is advised that the property contains a wood-burning fireplace, a gas stove and oven, gas heating, gas grill, and other gas powered items and will seek help from management if the proper operation of such items is not fully understood.
X.
The property has a fire extinguisher installed near the kitchen area. The fire extinguisher was fully charged at last inspection.
It is the duty of the Guest to inform the Purdy Cabin immediately should the fire extinguisher become less than fully charged.
Guest agrees to use the fire extinguisher only for true emergencies.
XI.
The property has fire alarms installed and they are believed to function properly at the time of rental. Guest will notify management without delay if a fire alarm "chirps" or has a low battery condition..
XII.
Television service is provided for Guest's enjoyment.
No refund of rents shall be given for outages, content, lack of content, or personal preferences with regard to available TV service.
XIII. Guest shall ensure that any furniture (interior and exterior) that is moved in any manner shall be relocated to its original location at the end of the lease period.